Written by KATE O'HARA | Design by MARTHA O'HARA INTERIORS | Photography by SPACECRAFTING PHOTOGRAPHY | Remodel by MDS REMODELING
After relocating from a large city where square footage came at a premium, this family of four was eager for more space, combined with the benefits of city living. Location and walking access to restaurants and shops remained a priority, but inside, the lofts were about creating connectedness for parents who love to entertain, while offering personal areas for two teenage boys.
What was originally a two-bedroom condo would no longer cut it for this family with teenagers. At the same time, because the condos wouldn't be their forever home, the overall goal was to make changes that would support how the family wanted to live in their new home and city and increase the property's value without any significant architectural changes.
Although boasting urban elements, this lofted condo was nothing like the sleek, basic studio you might rent in the high-rise apartments of the city —it had charm. Although it offered a great space for entertaining, the dated finishes, two bedrooms, and limited closets simply weren't enough. We found opportunities and solutions to modify this condo to fit all the needs of a busy, city-dwelling family of four.
Adding function & flow with focal points
There's a reason this family fell in love with loft living, and it was our job to highlight all the best details while ensuring that it could accommodate their daily needs. By embracing the current architecture of loft living within the residence, we found ways to enhance flow while infusing our clients' eclectic, contemporary style.
An updated palette.
A dated color palette in an array of beiges was adjusted to establish new focal points throughout the home that accentuate what the family loves most. A fresh coat of creamy paint and refreshed flooring in a dark finish created a backdrop that showcases the space, views, and furnishings.
Furnishing with intention.
Although spacious with high ceilings, this contemporary loft presented an oddly shaped floorplan. Given the unique layout of the main floor with its angled and asymmetrical spaces, our furniture plans had to be thoughtfully arranged. A fresh face meant an invitation to appreciate skyline views and help a useful stairway blend into the background. It meant transforming nooks into intentional and functional spaces with furnishings and finishes.
A sitting area is nestled within the staircase. Layered textiles add intimacy, and furnishings define this cozy spot to enjoy reading and unwinding. A velvet pinstripe adorns swivel chairs, and a diamond-patterned, oversized ottoman grounds the area. Favorite books, accessories from worldly travels, and personal artwork amplify the true coziness of the area.
Separate but together.
We had to be careful about furniture floor planning to ensure that the furniture did not interfere with the door to the balcony or the path to the dining room and loft staircase. The goal was to maximize seating without obstructing the view. A vibrant palette connects the sitting area to the living room, maximizing function for this family that loves to entertain while also allowing plenty of separation and privacy for everyday living.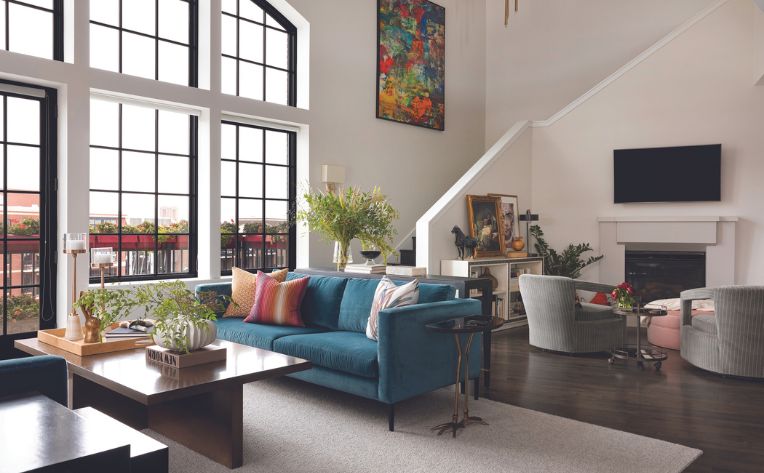 The jewel-toned sofas in plush velvet are anchored by an area rug, carving space for conversation amid the exposed brick and downtown views. The mix of materials feels slightly industrial, with texture and color elevating this seating area. A lacquered linen console behind the sofa adds functionality as a perfectly positioned drop zone at the stairway's base, leading to a loft for the boys.
Bold Oak Flooring.
The golden oak flooring needed new life, and with a mix of dated wood tones throughout the residence, it was time for a dramatic change. We kept the original hardwood floors and gave them a refresh with a dark look to complement the creamy color palette and modern design.
Uniform flooring throughout the residence makes the transition from one space to another feel natural, thereby creating a sense of cohesion and continuity. With the condo's sky-high views, the rich tone is a grounded comfort, paired with bright walls, bold details, and ample natural light
Skyline views and natural light.
We painted the window frames black to frame skyline views and create a natural focal point. The clean lines of the windows juxtapose with the warmth and texture of the exposed brick wall and let in all the daytime and nighttime light. This sets the stage for bold color and statement pieces. Sconces, floor lamp, chandeliers, and pendants offer warm nighttime lighting and ambiance when paired with the evening glow of the city.
Eating and Drinking in Style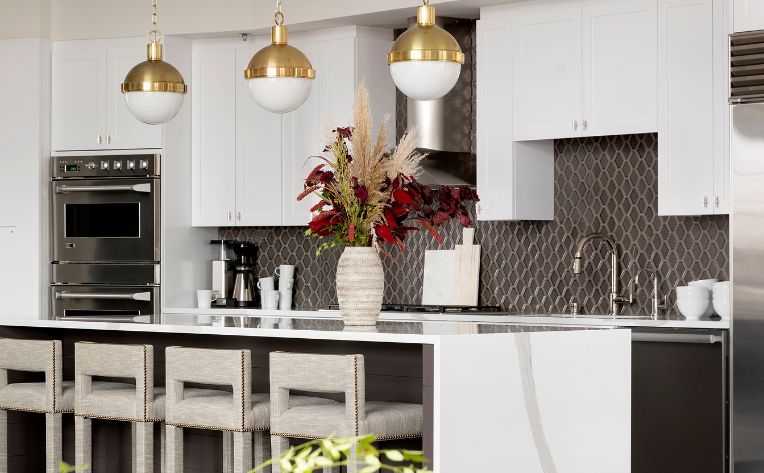 For many, especially those who love to entertain, the kitchen and dining areas are the heart of the home. These areas are natural spaces for gathering and making memories over food and drink. This family needed a kitchen and dining room that would not only serve their family of four, but also accommodate a crowd.
Two rooms made one.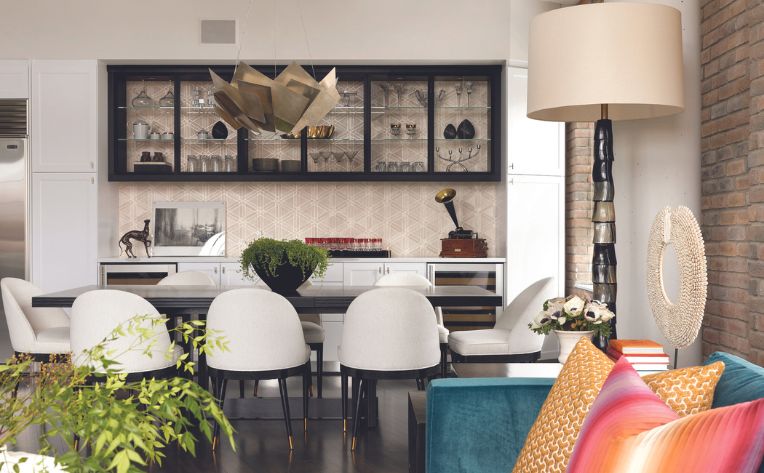 One of our first goals was to unify these spaces. We converted these rooms into an open concept layout by adding weight to the colors of the dining table, metal buffet cabinet, and vice versa in the base of the island and kitchen backsplash.
Quartz countertops match between spaces, and a metal and glass buffet cabinet stands out in the dining room. White lower cabinetry blends gracefully within the space without contributing too much visual weight. Adding even more cohesion is a wood veneer wallcovering backsplash in a bold diamond pattern, paired with a smaller scale diamond backsplash in the kitchen. Brass and silver leaf finishes add opulence and connection.
Serving up style and purpose, these details create an interesting canvas with clean lines that showcases a connectivity between rooms so that dinner parties can now happen with ease.
Furnishings make the space.
Counter stools and dining chairs are lavish in light performance fabric that is made for messes. They provide visual relief from the heavier furnishings around them. Brass accents, like the kitchen pendants, nailhead detail on the counter stools, dining chair ferrules, and buffet cabinet accessories, are understated and elegant.
The result is a kitchen transformed into a modern showstopper, blending seamlessly with the nearby dining room. Contrast and cohesion result from a balanced color palette that feels modern and elegant.
Playing Up the Primary Suite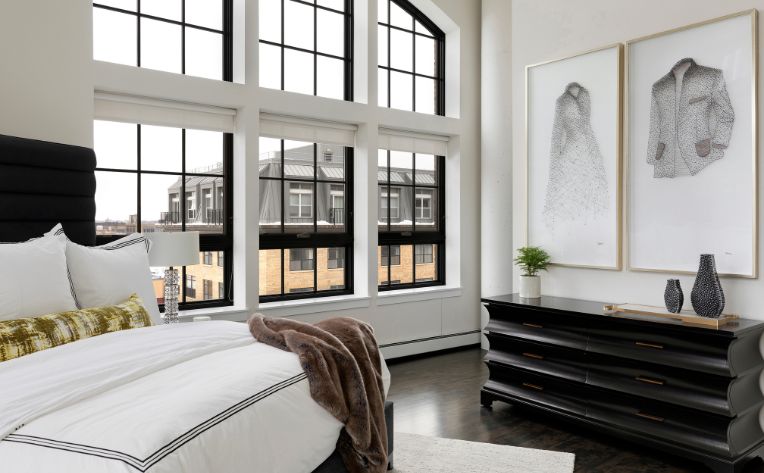 Like much of the condo, the biggest challenge in the primary suite was an uncommon floor plan. The lack of wall space for a bed or dresser required an unconventional approach. To make the most of the room, we angled the king-sized bed in the corner between the windows. The door into the suite, which is also on an angle, is directly across from the bed and creates a welcoming feeling upon entering.
Layered wool rugs and oversized artwork anchor the space and create defined areas within this large room. The room is not only a clear sleeping space, but features a secondary area for reading and lounging near the balcony. Because this is the main suite, we wanted to create the impression of a boutique hotel in the comfort of the client's home. Finishes and furnishings accomplish this goal with clean lines, unique shapes, crisp white bedding, and plush textiles. The bold floral velvet on the ottoman served as the initial inspiration for the overall color palette and invites fresh color accents amongst the otherwise moody space.
The ensuite features a timeless yet modern black-and-white aesthetic that will never go out of style and can be paired with any accent color to instantly transform the space.
Making Room for Teenage Mood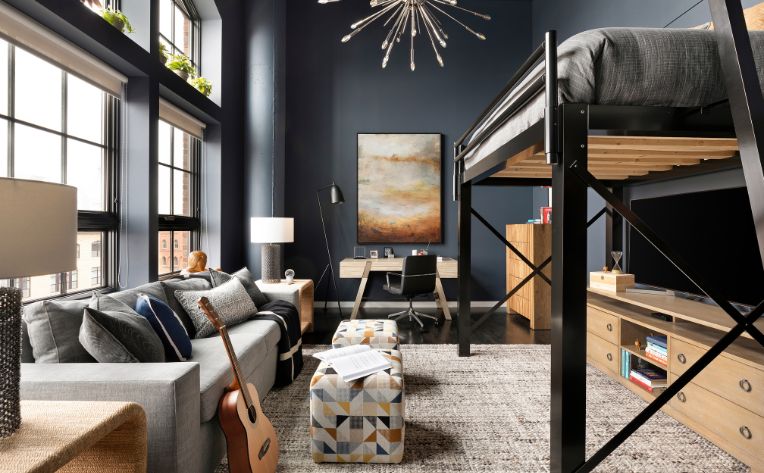 This bedroom perfectly captures the spirit of a teenager in need of his own space, a room that is equal parts modern and mature. Tall ceilings provide the necessary expanse for the youngest son to sleep, work, and play. A bold navy on the walls and ceiling offers a daring canvas for artwork and lighting, and a mix of wood, metal, and geometric elements creates a sophisticated and modern atmosphere. Natural light streams through a large window to showcase this teenager's love of plants and to highlight architectural details.
We selected furnishings that could grow with this teenager into adulthood. Vertical space maximizes the room's function with a lofted bed and designed entertainment center underneath. This is great for watching movies or playing video games. In addition, an adjacent sleeper sofa offers comfortable overnight hangouts with friends.
This room is all about fun and function, with city skyline views and modern accents that feel grown up for a teenager who is ready for adulthood.
A Loft that Packs a Punch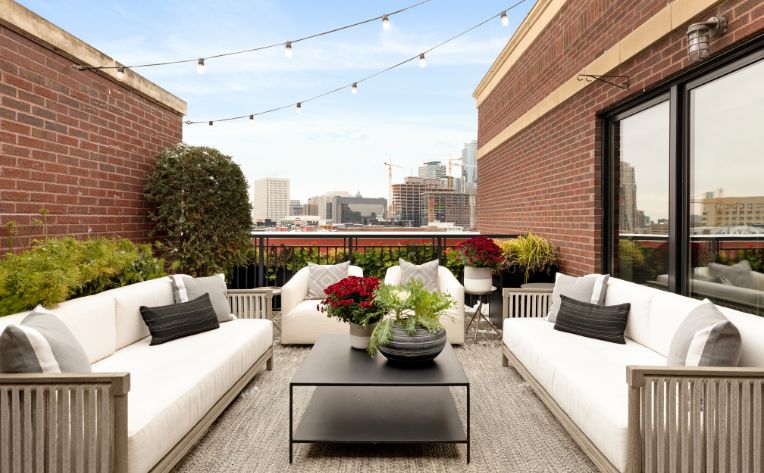 The upstairs loft features a cozy hangout for teens away from the busyness of the main floor. With an additional bedroom, the loft ensures that each teen has his own private space. This loft has it all, with easy access to the rooftop patio and a hidden office.
Repurposed room.
With big architectural changes out of the question, we decided to wall off a private room for the eldest son. The remaining area was repurposed for the boys to share—a TV hangout, a music room for piano practice, and a homework station built into a closet and framed by a sliding door.
A hidden workspace.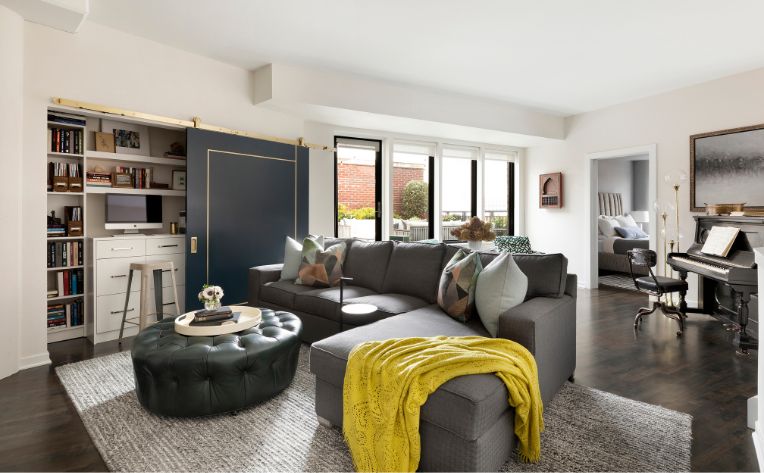 This downtown condo packs in function, taking a modern twist on home office closets, with a hidden desk behind a sleek, sliding door. This office is the perfect mix of storage and workspace that maximizes the square footage.
Planning a design is about relying on your team of designers and contractors to tailor your space to suit your family's needs. You don't need to know exactly what you want, but you should share must-haves, pain points, and inspiration to cultivate a space that's right for you.
By seamlessly mixing the couple's contemporary and eclectic styles and paying thoughtful attention to the family's everyday and hosting needs, this loft can now accommodate daily functions in the most breathtaking city landscape, offering the best of urban living.
Looking for more design inspiration? Don't miss out on the latest in flooring and interior design trends when you keep up to date with our blog.