Thinking about finally upgrading your kitchen? A successful kitchen remodel includes many steps, from a thoughtful plan and functional layout to solid construction materials, organized storage, and, of course, aesthetics. With so many moving parts, it's important to properly plan your kitchen makeover to ensure you achieve the desired aesthetic and improve the overall efficiency of your space. Flooring America is here to outline our best tips for planning and executing a kitchen remodel that all your friends and family will be talking about!
Create a Budget for Your Kitchen Remodel
Before you start any plans, consider your overall kitchen renovation budget. Determining your budget will guide you in how much structural renovations you can accomplish, and help you prioritize product selections, materials used, and more. No matter your budget, your local Flooring America carries exceptionally beautiful and durable kitchen products and renovation services to upgrade your space. With our team on your side, we can find the proper resources to make your dream kitchen a reality!
Improve the Function of Your Kitchen with a Floor Plan
Structure and function is the most important step in remodeling a kitchen. You must think about how you want the flow of your kitchen to be. Consider where you want your cabinetry, counter space, storage space, appliances, task lighting, and seating to reside. If you want to completely transform your kitchen, you may consider knocking down walls to make the space bigger, or installing a kitchen island for ample workspace and more seating. Talk to one of our experienced designers to strategically plan the optimal flow of your kitchen.
Kitchen Interior Design
Whether you desire a trendy farmhouse kitchen, a cozy cottagecore style, a sleek minimalist design, or another creative kitchen design, it's important to map out your design goals before your kitchen makeover begins. Research kitchen design ideas, browse our Design Inspiration Blogs, and note any must-have pieces to use as a focal point for the rest of your interior design. Maybe you love the look of wood countertops, a farmhouse sink, a subway tile backsplash, a fancy kitchen island, or have a unique idea for custom cabinetry. When you talk to a designer, explain your desired aesthetic with reference photos to create a unique plan that expresses your personality!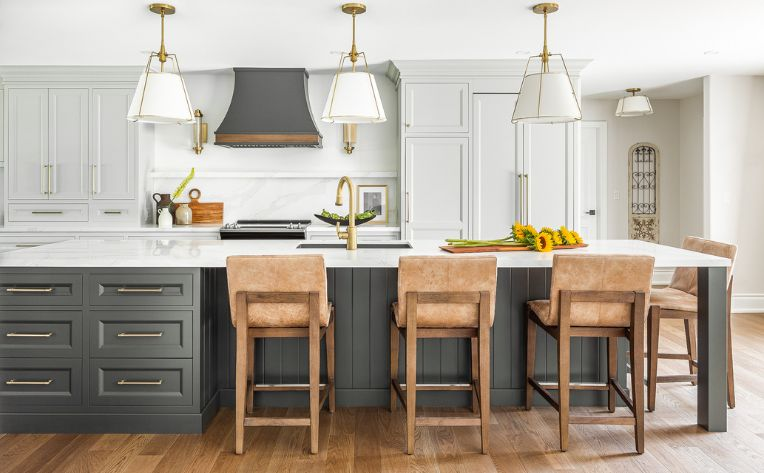 Design by Patti Wilson Design | Photography by James Lee Photos
Selecting Quality Kitchen Products
Once you've solidified your budget, floor plan, and interior design goals, it's time to start making product selections. Always keep quality, design, and lifestyle in mind when selecting products for your kitchen remodeling project. For example, busy homes with small children and furry friends are prone to extra stains, spills, and daily mishaps. If this is the case, save yourself the worry and constant cleaning by avoiding white base cabinets. Shop for the following kitchen products with help from your local Flooring America design experts:
Appliances

Backsplashes

Cabinetry

Countertops

Decor

Flooring

Furniture

Hardware

Kitchen Island

Lighting

Rugs

Shelving

Sinks
What Type of Flooring is Best for Your Kitchen Remodel?
When it comes to your kitchen, you need stylish flooring that's easy to maintain and ultra-durable. After all, the kitchen is one of the most high-traffic rooms in your home. And your floors need to withstand the full brunt of what your family can dish out—from spilled drinks to hyper four-legged companions. With new technologies, there are a few flooring alternatives you may not be considering that could completely change the game. So, when you inevitably drop that sauce-covered spoon, you'll be thankful you chose a sturdy, wear-resistant floor. Below are a few kitchen flooring options that will do the trick.
Hardwood Kitchen Flooring
Hardwood floors are popular in most areas of the home, and despite not being waterproof, they are still a popular choice for kitchens. With proper maintenance, solid wood flooring can endure many years in your kitchen. That being said, if your kitchen serves as a hub of unpredictable activities and frequent spills, consider engineered wood flooring. Engineered hardwood is composed to resist warping due to moisture, making it an ideal hardwood flooring for your kitchen. With a solid hardwood veneer and sturdy engineered wood core, enjoy a truly beautiful hardwood floor that provides long-lasting, stress-free durability.
Luxury Vinyl Kitchen Flooring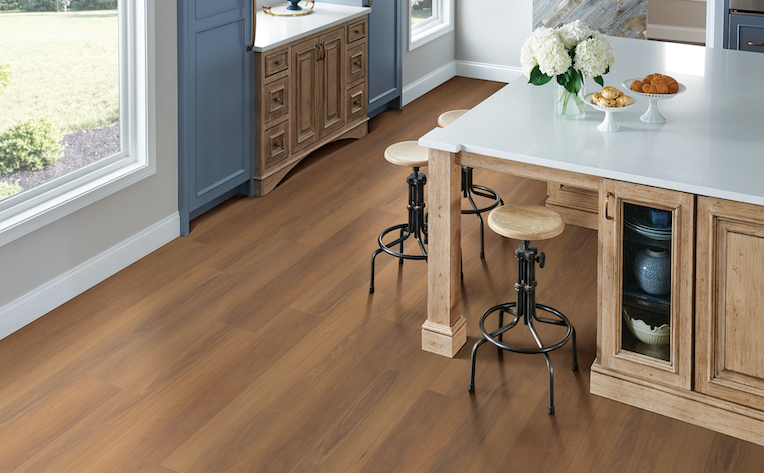 If you love the look of hardwood flooring or stone tile flooring for your kitchen but are worried about durability and comfort underfoot, luxury vinyl is an ideal solution. Luxury vinyl floors have a multilayer construction for maximum waterproof performance, so you don't have to worry about any kitchen spills. Additionally, LVP or LVT is easy to maintain, so a simple sweep and mop will do the trick.
You can even install vinyl floors in your living room or dining room to seamlessly transition the flooring in open concept areas to the kitchen. Luxury vinyl planks or tile can give you cohesive, stylish flooring that's oops-proof and cost-effective.
Laminate Kitchen Flooring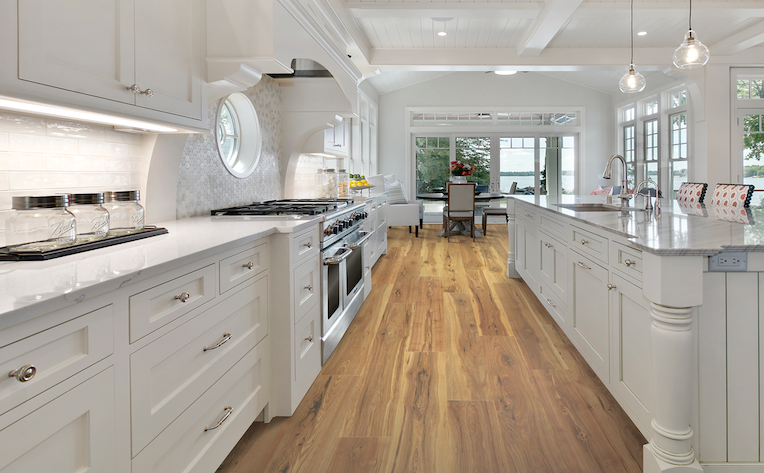 Laminate is popping up in kitchens all over the country because of its durability and affordability. It comes in a variety of different styles, so you can still get the look you want at almost half the price. If you haven't looked at laminate lately, it's come a long way in the past few years. Technology in laminate has made it a water-resistant option perfect for kitchens. Many laminate collections have advanced in visuals making it almost identical to real wood or tile. Additionally, laminate doesn't get cold in the winter like tile can, so you won't need to layer up your fuzzy socks to stay warm.
Tile Kitchen Flooring
Calacatta Halo res Tile in kitchen
Tile has long been the preferred choice for kitchen flooring, and for good reason. It boasts unmatched durability, a wide array of colors and patterns, and is both waterproof and resistant to stains. Two excellent tile options are ceramic and porcelain, both offering versatile styles to match any interior. Natural stone tile, like granite, marble, slate, and travertine, is also worth considering if it fits your budget. These stones are sturdy but demand some maintenance due to their porous nature. If you adore the look of tile but dislike the chilly sensation underfoot, contemplate installing a heating system beneath your tile floor.
The choice of tile color and pattern depends on your desired interior design style. You can opt for a neutral color such as gray or white, or swing a bolder look with more vibrant, colorful, and uniquely shaped tiles. It's important to think about how different tile colors, patterns, shapes, and layouts will complement your kitchen's style. For a traditional appearance, square tiles are a safe choice. However, if you want to add visual intrigue to your flooring, consider diagonal, herringbone, or chevron patterns, especially when using wood-look tile floors.
Kitchen Installations with Your Local Flooring America Contractors
Your product selections and design are only as good as the quality of your installations. Flooring should be properly laid, cabinets securely installed, and countertops precisely fit for a kitchen that looks beautiful and lasts. Work with contractors that treat you like family by seeking out professional kitchen renovations with our trusted local installers. Our kitchen installations may include but are not limited to:
Find Kitchen Renovation Services at Your Local Flooring America
Whether you're in the midst of a kitchen remodel or building a new one from scratch, remember that your local Flooring America experts are always at your service to address any inquiries you may have. While kitchen renovations can appear to be a significant undertaking, the returns on your investment become abundantly clear when you partner with the right team. Discover a one-stop solution for all your needs, ranging from product selection to design and seamless installation. Kickstart your kitchen transformation today or find inspiration with our Room Visualizer tool for kitchen remodeling ideas!